Home

Pre Katrina Home

Orleans Parish
This information is pre-Katrina.
Although the information linked from this page is out-of-date, we are continuing to make it available, as it provides insight about this parish pre-Katrina. You may find outdated information and broken links.

For current data about the Greater New Orleans area, visit our homepage.
Orleans Parish Data & Information
Map of Orleans Parish (with links to districts for neighborhood level data)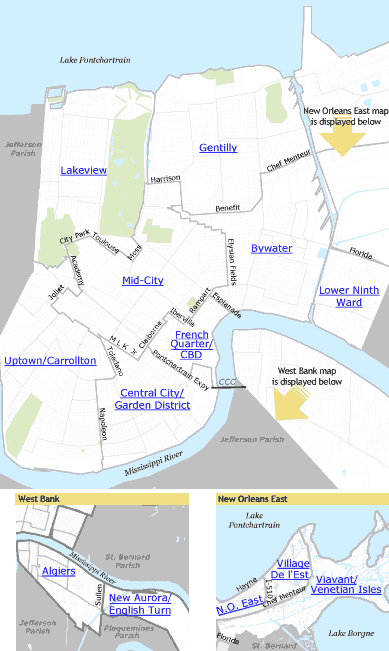 A few comments about neighborhood-level data
Neighborhood data is more compelling than data at the parish, state or national level. But there are fewer types of data available at the neighborhood level.
In the nonprofit community, whether you're writing grants, planning programs or making funding decisions, chances are the area you target is smaller than the United States, the state of Louisiana, or even the parish. So, you'll want numbers that reflect the geography of the people you serve. But often, you can't find exactly the data you want at a neighborhood level. For example, at the national level you'll easily find literacy rates, but it's more difficult to get the same numbers for your neighborhood.
In general, the key is to use the most relevant data at the smallest possible geography.
We recommend that you take a look at the information available at the parish, state and national levels. And then also consider the local data – numbers about the neighborhoods you work in. On this page, you'll find Parish-level data in the yellow column on the left, and you can use the map on the right to navigate down to neighborhood-level data.
Home

Pre Katrina Home

Orleans Parish

The Community Data Center website is a product of Greater New Orleans Nonprofit Knowledge Works. Copyright © 2000-2. All Rights Reserved.

Last modified: May 1, 2003