Coming into focus: Early indicators of pandemic job loss in the New Orleans metro area
Robert Habans Jenna Losh
Published: Jun 17, 2020
Two months have passed since the initial shock of pandemic unemployment numbers in late March and early April. Reports by The Data Center, as well as countless other media outlets and national commentators, have highlighted alarming early reports of unemployment and dire projections of further job loss. This brief provides an updated look at data from the state unemployment insurance system through early June. In addition, we examine recently released preliminary1 April estimates for state and local employment from the Bureau of Labor Statistics (BLS).
Early back-of-the-envelope estimates using data from before COVID-19 suggested that the New Orleans labor market would be especially vulnerable to job loss, in part due to the importance of its tourism industry. Based on post-COVID-19 data, early indications show that these fears were well-founded and underscore the precarity of workers and businesses that may face a slow and uneven recovery. While it must be stressed that estimates from different sources vary due to differences in methodologies and reference periods2 and many unknowns remain about current stresses and the outlook for recovery, the numbers reported below begin to paint a clearer picture of the scale of joblessness affecting the regional economy.
Unemployment claims data: A murky but close-to-real-time benchmark
Every week since late March has brought astronomical reports of workers claiming unemployment insurance (UI) benefits. Unemployment insurance provides a useful leading indicator of joblessness for two reasons. First, unemployment claims directly reflect utilization of the primary social insurance program for people experiencing short-term unemployment. Second, unemployment insurance claims data is published with a lag of only 5 days – far less than any other conventional indicator of labor market conditions. Initial and continued claims published by the U.S. Department of Labor and the Louisiana Workforce Commission remain the timeliest readily available indicator of joblessness.
At the start of June, roughly 498,000 Louisiana workers were claiming unemployment benefits. Of these, roughly one-third were part of the new federal program that extends eligibility to jobless workers who typically are not eligible for benefits.
Since the initial effects of the pandemic on the labor market, many media stories have reported the cumulative number of initial state UI claims as a measure of joblessness. However, this may be misleading since it undercounts claims for Pandemic Unemployment Assistance (PUA).3 As a provision of the CARES Act, the PUA program extends UI benefits to jobless workers who are not typically eligible for regular UI. In practice, this means self-employed people, including independent contractors, "gig" workers, and those with insufficient work experience qualify. This group may be more likely to reflect claims by musicians and other cultural economy workers who are more likely to be self-employed, 4 as well as those with non-standard or part-time employment.
By adapting a national analysis by the Economic Policy Institute to state-level data, we can begin to paint a clearer picture of the unemployment insurance situation in Louisiana as of early June. For both regular state claims and PUA claims, the figure below covers claims that have gone through the initial round of processing and are eligible for benefits (continued claims), as well as claims that have been submitted but not gone through the initial round of processing and are waiting to see if they will receive benefits (initial claims).5 For the week ending June 6, this adds up to 498,000 claims in Louisiana, about one for every four workers covered by unemployment insurance before the pandemic hit Louisiana. PUA claims make roughly one-third of this total.6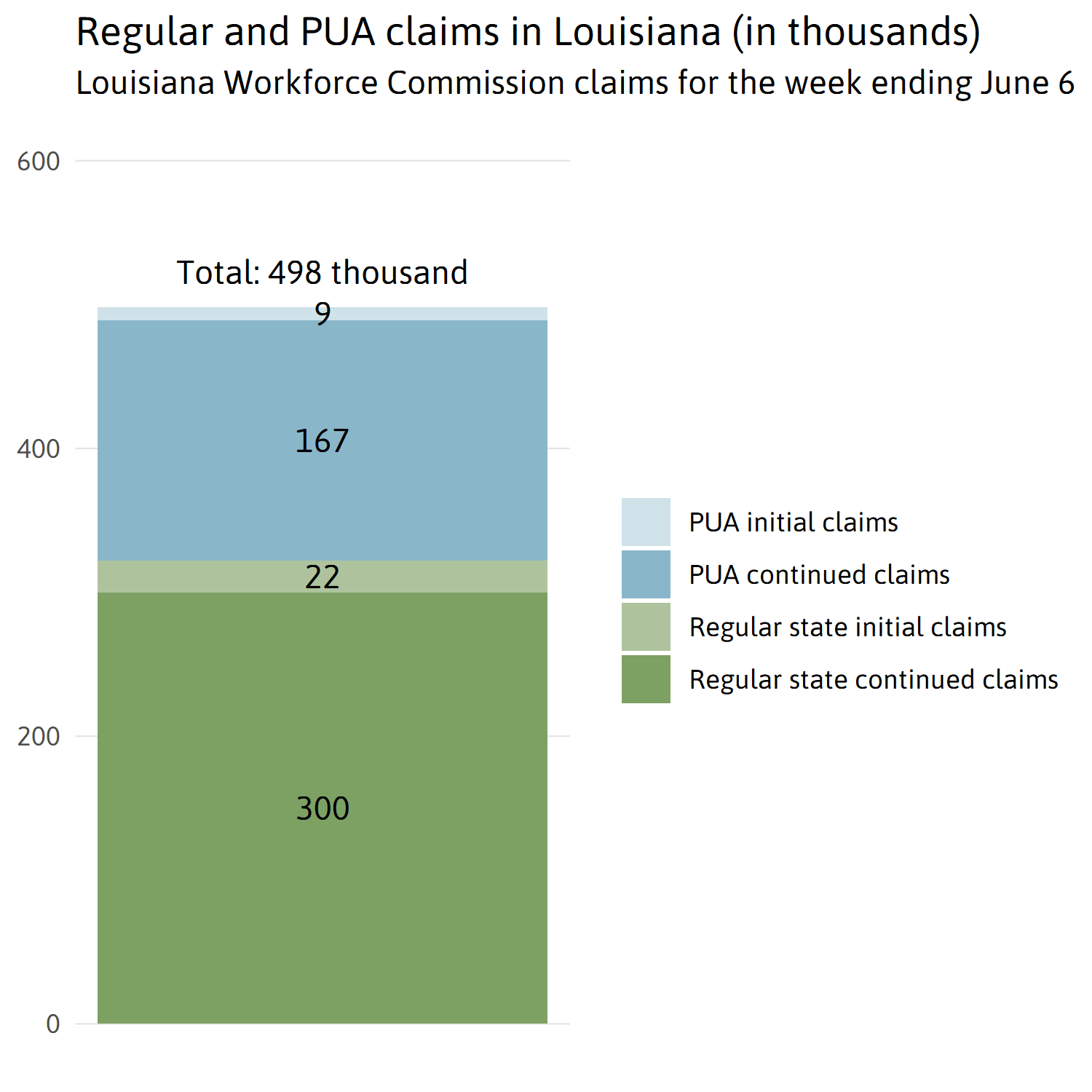 The extra $600 per week benefit is slated to end at the end of July, but workers who first received benefits during the surge of claims from mid-March through May should have access to benefits through the end of the calendar year.
Arguably, temporary modifications to the UI system have been among the most effective provisions of the CARES Act, ensuring the livelihoods of hundreds of thousands of Louisiana workers whose jobs were disrupted by the pandemic. However, given widespread uncertainty about labor market conditions over the next several months or even years, the eventual sunset of benefit eligibility has the potential to destabilize the finances of thousands of workers in the region.
As of this writing, the additional $600 per week benefit available through the Pandemic Unemployment Compensation program (PUC) is scheduled to end on July 31. Without this boost, the maximum UI benefit available to local unemployed workers is $247 per week, and Louisiana remains one of only six states with a maximum less than $300.7 At that baseline level of benefits, another CARES Act program, Pandemic Emergency Unemployment Assistance (PEUC) adds an additional 13 weeks of eligibility to Louisiana's usual maximum of 26 weeks. From mid-March through April, continued claims at the state level exploded, but the curve began to flatten during May. A back-of-the-envelope projection would suggest that, with the PEUC extension, benefit eligibility will begin to be exhausted in December and January for the wave of workers already rendered jobless.
While a share of the over 460,000 Louisiana workers currently receiving UI benefits will likely return to work before the end of July and the calendar year, how large will this share be? This question will remain a key source of uncertainty with implications for economic triage at all levels of policymaking.
Unemployment claims have been high in New Orleans and the metro area when compared with other parts of the state. This difference is partly due to the region's industry composition. For example, tourism-related industries like Leisure and Hospitality have been hit especially hard.
Parish-level UI claims data from the Louisiana Workforce Commission do not appear to include PUA claims, which account for roughly one-third of total claims statewide. Even without counting these workers, unemployment hit the region hard and fast. In the New Orleans metro, over 110,000 workers either received benefits or filed an initial claim in the week ending June 6.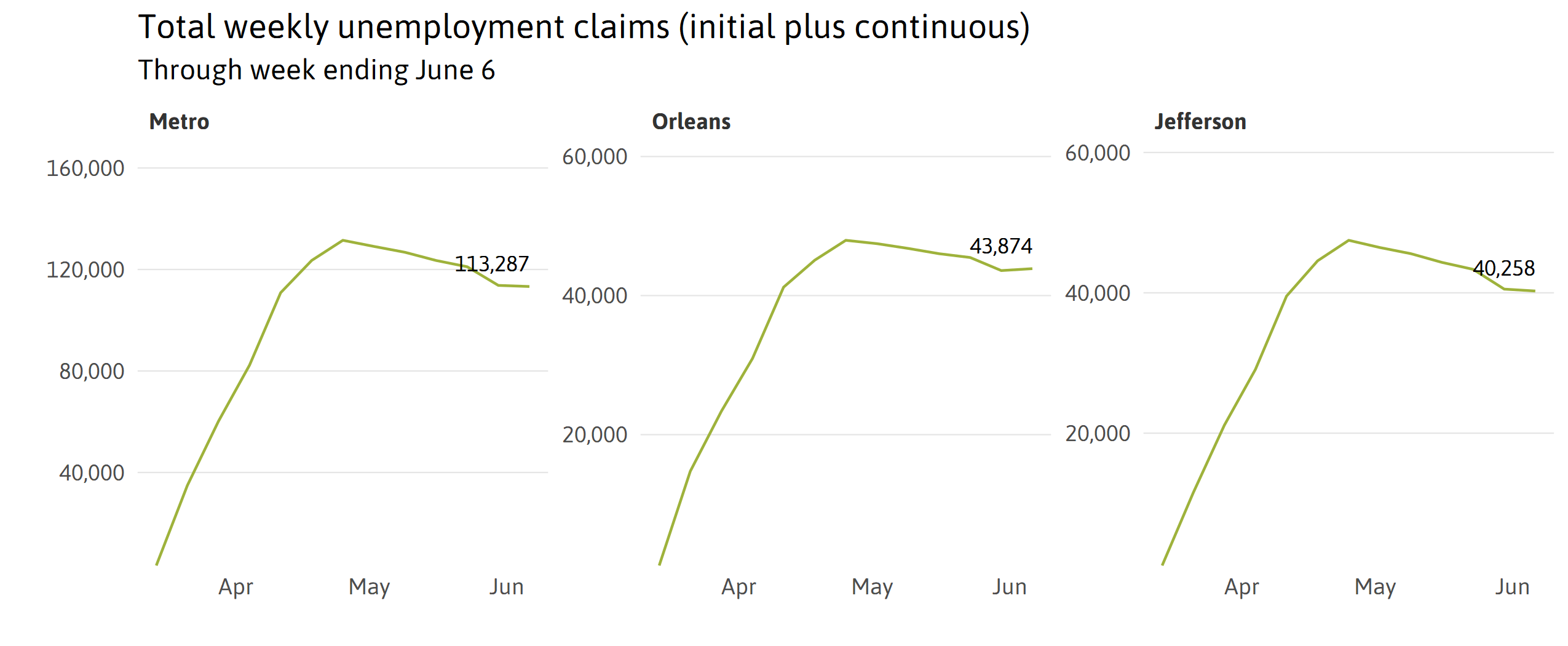 These are staggering totals, but how do they compare with the rest of the state? When adjusting total claims for the week ending in June 6 to reflect differences in population, Orleans Parish and Jefferson Parish rank first and second among the 15 most populous parishes in the state (all roughly 100,000 or higher).9 Likewise, the New Orleans metro has a high rate of total claims per UI-covered employment relative to the statewide total. The New Orleans metro had 29 percent of the state's jobs before COVID-19 but 35 percent of total claims last week.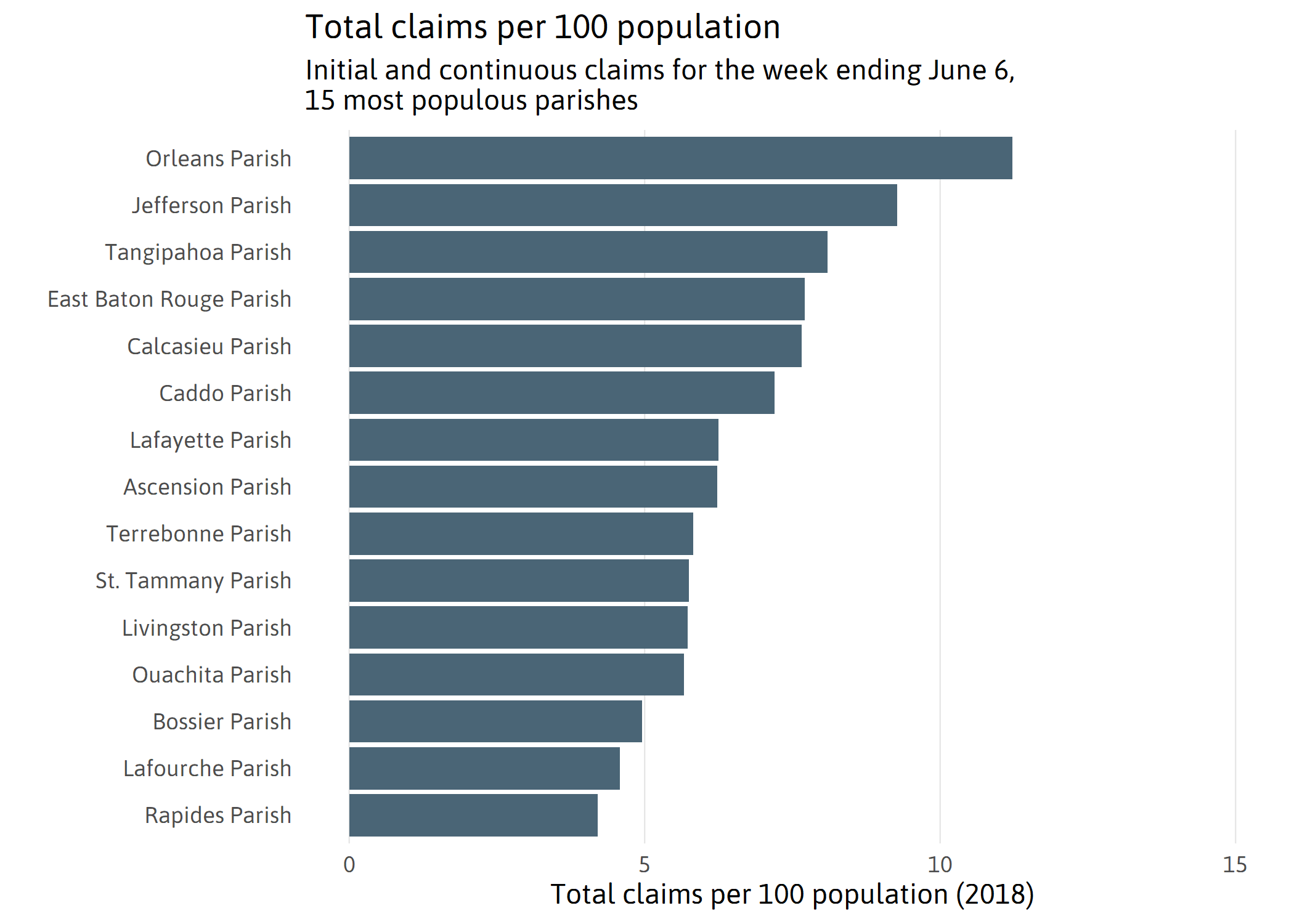 These differences stem in part from the composition of the New Orleans regional economy. As the U.S. economy transitioned into shutdown, early analyses warned of employment loss in hospitality,10 retail, and other customer-facing, "non-essential" industries without the ability to transition to home-based work. The UI data through early June confirms these fears. Accommodation and Food Services accounts for more total claims than any other industry sector in Louisiana.11 Although claims by industry sector are not available by parish, we approximate claims by industry sector for New Orleans and the metro region based on statewide claims by industry and the pre-COVID composition of the local economy to give a rough approximation of the scale of local job loss in each industry sector.12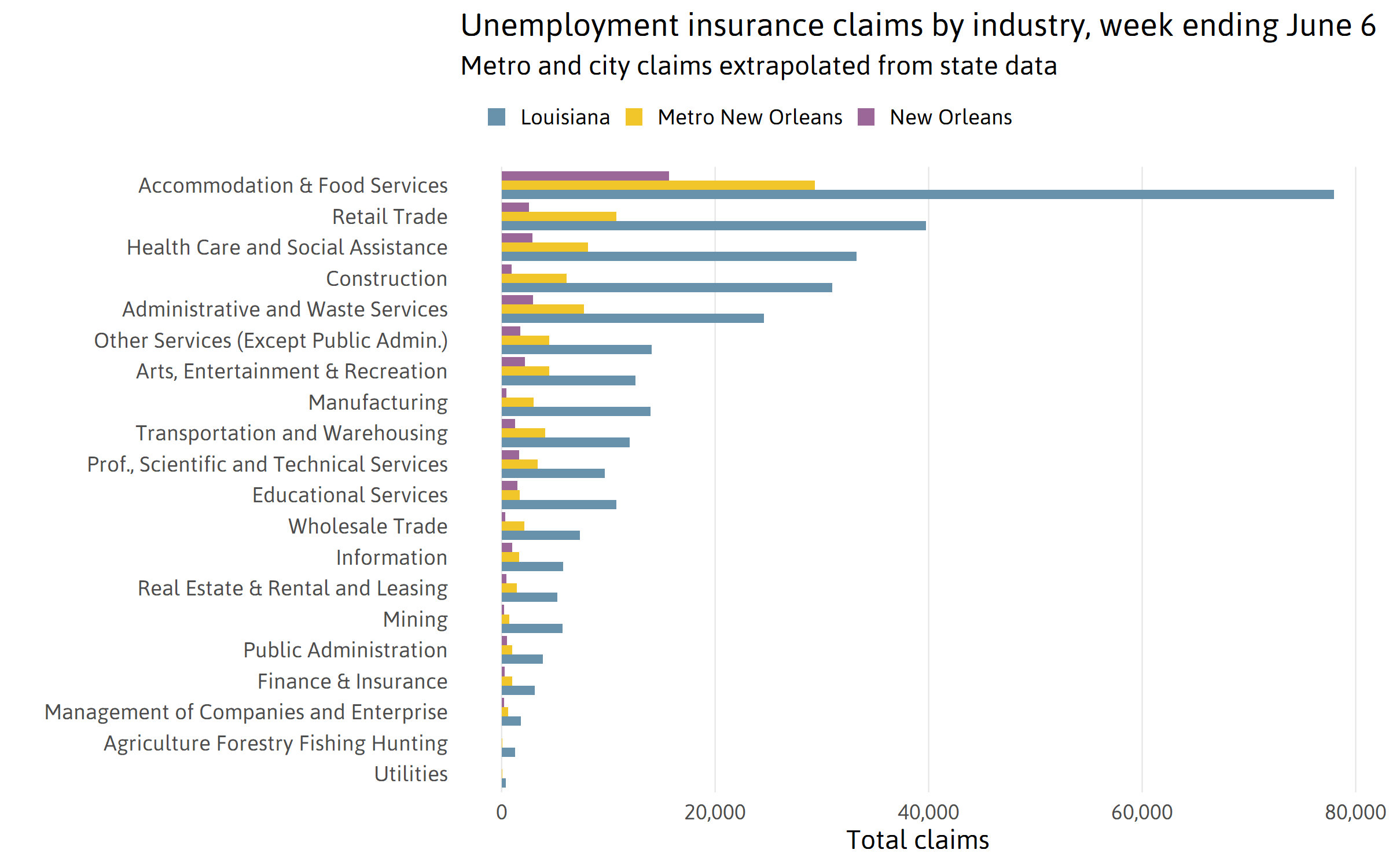 To provide a common reference point for sectors with different employment levels, total claims can be compared with pre-COVID-19 UI-based employment data from 2019.13 For the week ending June 6, the Louisiana Workforce Commission received three or more UI claims (initial and continued combined) for every 10 pre-COVID-19, UI-eligible employees in three sectors: Accommodation and Food Services; Arts, Entertainment, and Recreation; and "Other Services."14 Even outside of these extremes, nearly every industry sector has seen an exceptional scale of employment disruption.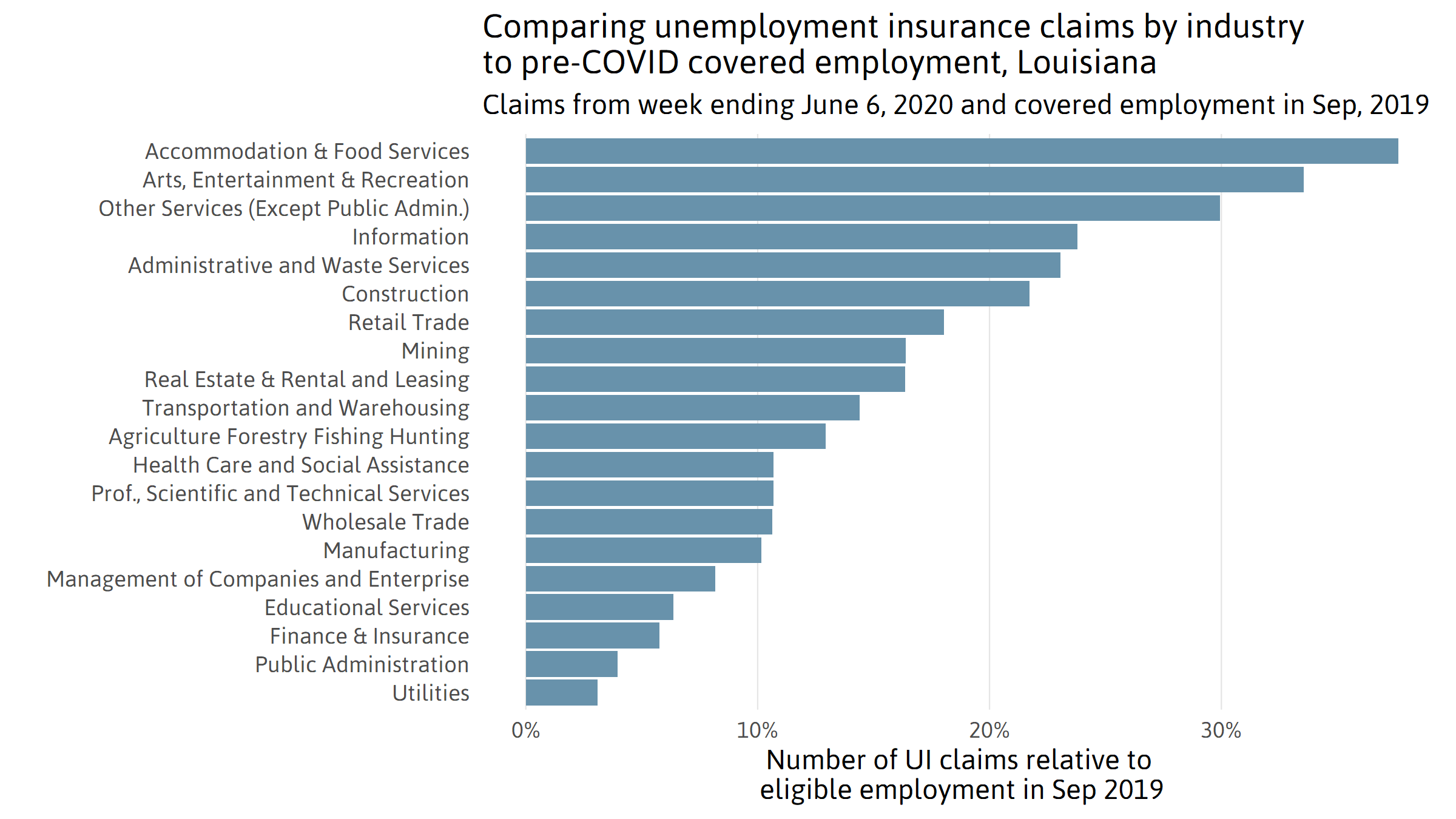 Two of every five of the state's Leisure and Hospitality jobs (which includes Accommodation and Food Services and Arts, Entertainment, and Recreation) are in the New Orleans metro. Leisure and Hospitality (indicated in orange) accounts for a relatively large share of employment in the New Orleans metro – and Orleans Parish in particular – leaving the local and regional economy exposed to severe, industry-specific job loss. However, industry composition alone does not account for the disproportionate job loss in the New Orleans metro, based on the BLS data presented below, as well as an analysis that compares statewide UI trends and expected local trends based on the industry mix in the metro economy (see appendix).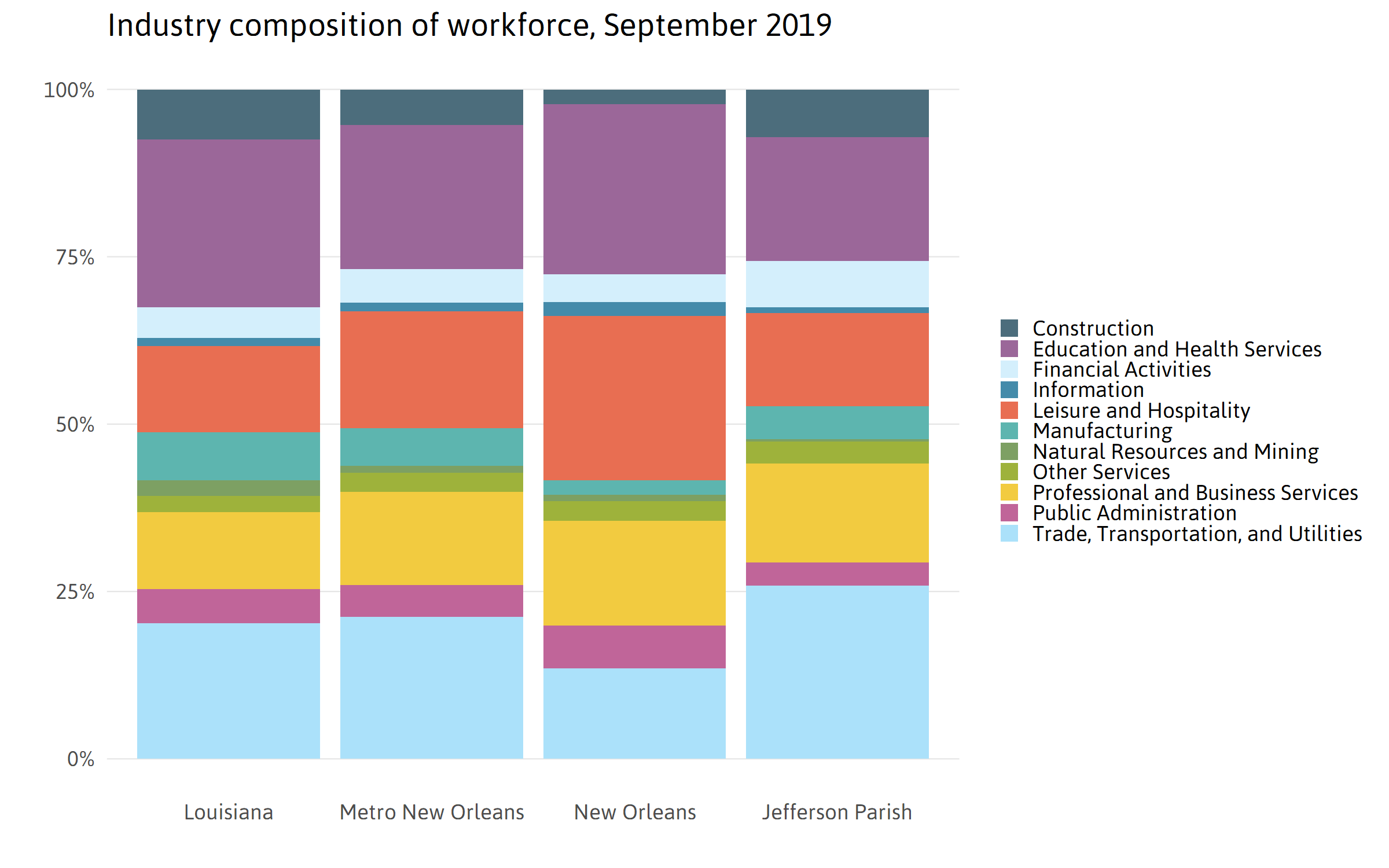 Bureau of Labor Statistics data is catching up to COVID-19: Metro job losses through April
Unemployment estimates from April show steep job losses in the New Orleans metro – even steeper than in the rest of the state.
Other sources of local economic data are beginning to catch up with COVID-19. While the numbers are preliminary and data collection itself may have been affected by pandemic,15 the most recent jobs reports from the Bureau of Labor Statistics reflect the employment situation in approximately mid-April 2020.16 According to these preliminary estimates, the April unemployment rate in the New Orleans metro was 18.8 percent. This exceeds the statewide unemployment rate of 14.5 percent, the national rate of 14.4 percent, and the unemployment rate in each of the other 8 metro areas in Louisiana, and the unemployment rate in 88 percent of all metros in the US.17 The New Orleans metro has also experienced the largest increase in unemployment in Louisiana.18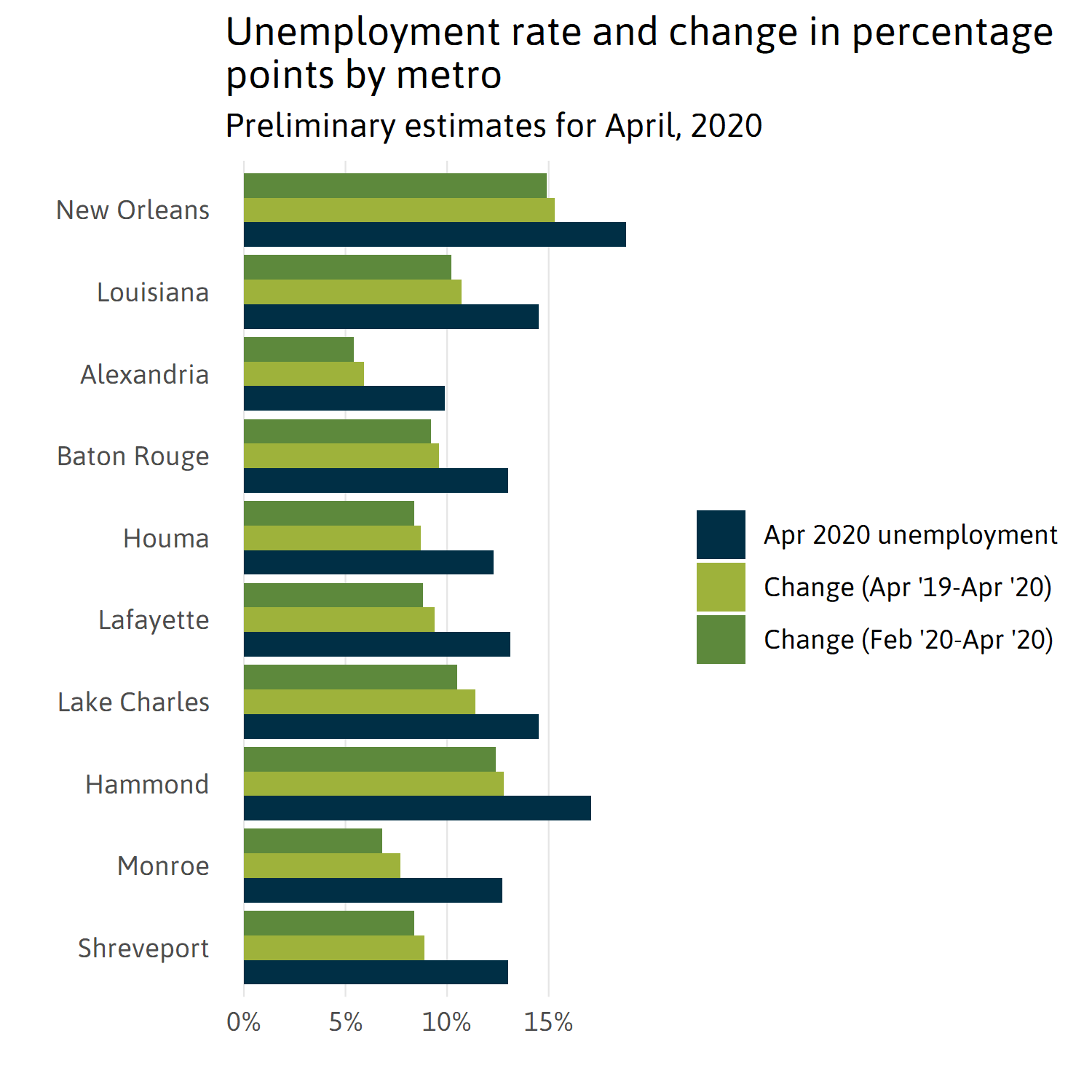 Estimates from April show that jobs declined unevenly across industry sectors. Jobs in the leisure and hospitality sector fell by nearly half in the New Orleans metro.
As employment plummeted across the state (see table in appendix), the New Orleans metro experienced an especially sharp decline. Between February and April 2020, total nonfarm employment in Louisiana fell by 261,000, 13 percent of February employment. Nonfarm employment in the New Orleans metro fell by 99,000, 17 percent of February employment, over the same two months. The New Orleans metro accounted for 29 percent of statewide employment in February but 38 percent of employment losses through April. In both relative and absolute terms, the largest losses by far occurred in the Leisure and Hospitality sector, where employment fell by half. Several other industry sectors also suffered double-digit employment losses between February and April.
February and April, 2020, employment in New Orleans metro by industry sector in thousands (source: BLS-SAE, April estimates are preliminary)
| | | | | |
| --- | --- | --- | --- | --- |
| Sector | Feb 2020 | Apr 2020 | Change | Change (%) |
| Total Nonfarm | 586.3 | 487.1 | -99.2 | -16.9 |
| Mining and Logging | 4.4 | 3.9 | -0.5 | -11.4 |
| Construction | 27.2 | 23.5 | -3.7 | -13.6 |
| Manufacturing | 29.7 | 27.9 | -1.8 | -6.1 |
| Trade, Transportation, and Utilities | 111.0 | 95.0 | -16.0 | -14.4 |
| Information | 8.0 | 6.9 | -1.1 | -13.7 |
| Financial Activities | 30.3 | 30.4 | 0.1 | 0.3 |
| Professional and Business Services | 77.3 | 65.6 | -11.7 | -15.1 |
| Education and Health Services | 106.3 | 94.8 | -11.5 | -10.8 |
| Leisure and Hospitality | 93.8 | 47.5 | -46.3 | -49.4 |
| Other Services | 24.5 | 21.0 | -3.5 | -14.3 |
| Government | 73.8 | 70.6 | -3.2 | -4.3 |
In the New Orleans metro, some services industries experienced particularly large drops in employment between February and April:
Food services, -35,500 jobs (-54 percent)
Accommodation, -4,300 jobs (-29 percent)
Arts, entertainment, and recreation, -6,500 jobs (-50 percent)
Retail trade, -11,000 jobs (-18 percent)
In total, the New Orleans metro lost about 22,000 more jobs than it would have lost if employment declined at the same rate as the entire state. Of this gap, 10,000 are due to differences in the local industry mix.19
Conclusion
From March through May, unemployment reached extreme levels across the state and the nation, and the weekly UI numbers remain historically high. However, recessions and recoveries tend to have uneven effects on labor markets across geography, industries and occupations, and earnings levels, as well as the race, gender, and age of workers. With a large share of jobs in industries like leisure and hospitality that have experienced the largest job losses, the New Orleans region faces a combination of relatively extensive pandemic job loss and a relatively slow recovery outlook for tourism-based demand. Even when the economy begins to show signs of recovery, tens of thousands of local workers, especially those who were in lower-earning jobs before the pandemic, will struggle to meet basic financial needs through the labor market. Likewise, the recovery of the regional economy may be further stunted by "second-order" effects of depressed spending by households, businesses, and the public sector. While controlling the pandemic remains the foremost concern in managing the regional economy, continual monitoring of economic data can inform anticipations for mitigating a potentially slow, uneven recovery.
Appendix
To examine whether the high job loss in New Orleans is explained solely by industry composition, we compared BLS Current Employment Statistics for the state and metro (see below for state data). We used shift-share analysis to examine employment change between February and April by decomposing local employment change into statewide, industry, and local components. Of the 22,000 excess jobs lost in the New Orleans metro, 10,000 are due to differences in the local industry mix and the remainder are due to other, presumably local effects.
February and April, 2020, Employment in Louisiana by industry sector in thousands (source: BLS-SAE, April estimates are preliminary)
| | | | | |
| --- | --- | --- | --- | --- |
| Sector | Feb 2020 | Apr 2020 | Change | Change (%) |
| Total Nonfarm | 1988.3 | 1727.6 | -260.7 | -13.1 |
| Mining and Logging | 36.2 | 31.4 | -4.8 | -13.3 |
| Construction | 139.4 | 122.0 | -17.4 | -12.5 |
| Manufacturing | 133.9 | 125.0 | -8.9 | -6.6 |
| Trade, Transportation, and Utilities | 374.6 | 336.5 | -38.1 | -10.2 |
| Information | 22.0 | 20.0 | -2.0 | -9.1 |
| Financial Activities | 92.7 | 88.0 | -4.7 | -5.1 |
| Professional and Business Services | 215.8 | 197.0 | -18.8 | -8.7 |
| Education and Health Services | 323.9 | 286.1 | -37.8 | -11.7 |
| Leisure and Hospitality | 240.0 | 130.4 | -109.6 | -45.7 |
| Other Services | 74.5 | 64.6 | -9.9 | -13.3 |
| Government | 335.3 | 326.6 | -8.7 | -2.6 |
To further examine this question using UI data. We compared the trend in metro-level UI claims with the trend in statewide total claims and claims by industry. We used covered employment in September, 2019, to adjust weekly statewide total claims and claims by industry to match total employment and employment by industry at the metro level. The result is an "expected" trend that naively assumes that, in any given week, UI claims in local industries track in proportion with their counterparts on the state level. The gap between the actual UI trend (blue) and the expected UI trends based on the extrapolating statewide trends onto the metro (pink and red) may be interpreted as claims in excess of what would be expected based purely on differences in the size and industry composition of the state and metro economies.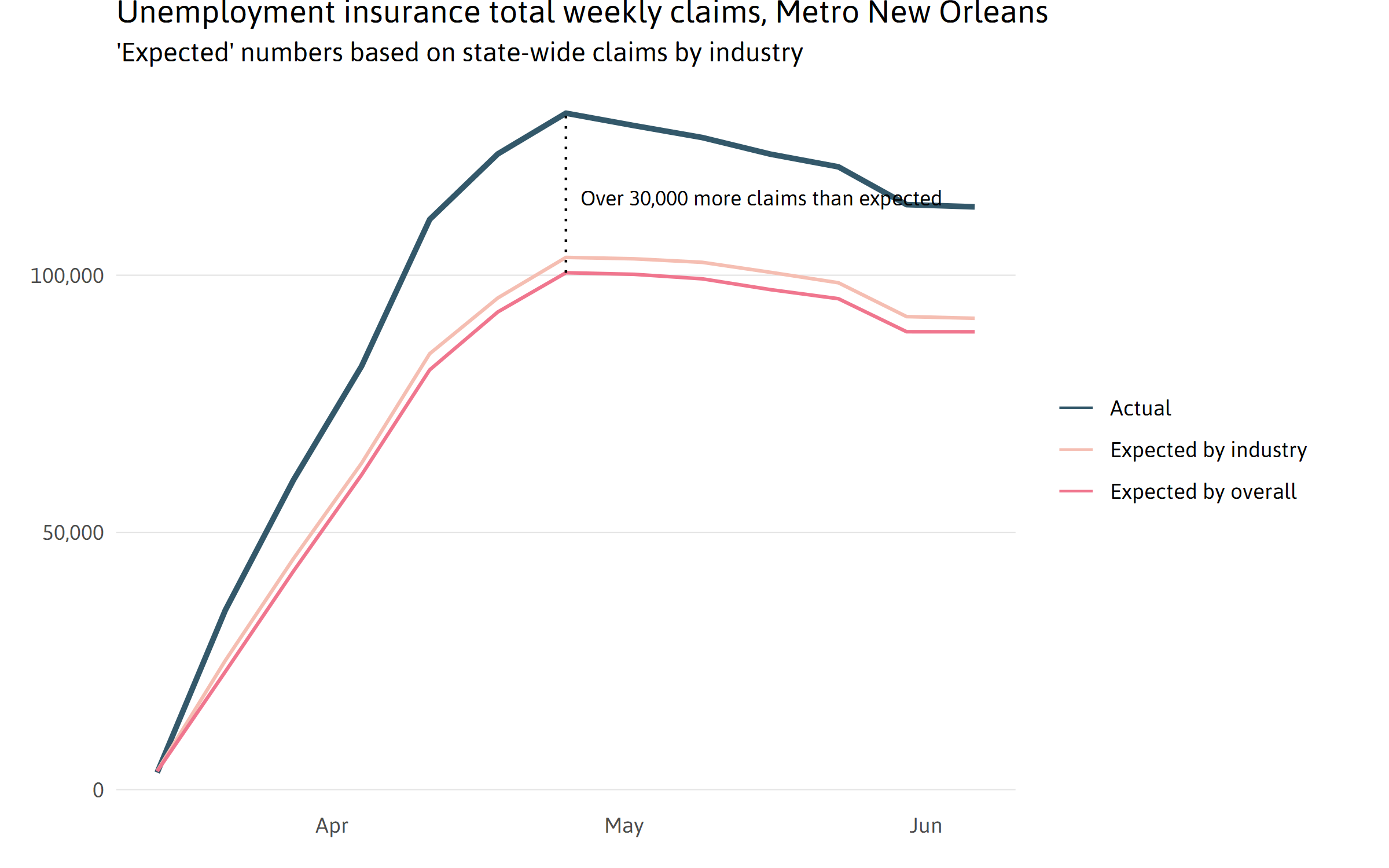 The estimated total claim numbers for individual industries provides some additional context for why the metro area experienced a greater proportion of job loss than the state overall, but ultimately shows that we do not know which industries' workers had disproportionately high need for UI benefits in the New Orleans metro. The four industries employing the most people in the metro also saw high rates of UI claims statewide. High employment in industries that lost a high proportion of jobs contributed to steep numbers in local UI claims. Even still, far more claims were filed than this analysis indicates we could have expected based on the metro's industry composition. The actual number of UI claims by industry at the metro level is not available.